before you apply...
We seek to do business with fun & positive folks (no selling experience required!) We reserve the right to decide who we do business with.

Local artisans & Pickers ALL welcome.

We seek to support local business, hand-crafted and vintage/vintage-styled items. We make a great "satellite" store for already up & running businesses.
We extend wayyyyy past "just antiques." Find hand-crafted and repurposed items, furniture, home decor, boutique-type items, jewelry, antique and vintage pieces to fit each personality.
Our #1 goal is to offer diversity in products. This makes shopping so much fun! Before you apply, just know if we already sell products similar in the store, we will not be able to bring you onboard yet. For example, we are not currently seeking boutique clothes, candles, Soap products, wooden monogram letters, and handmade signs, as we have that onboard currently. Still apply!! We will hold onto your application in case one of those vendors leave.
We are not at all a flea market. We are Pinterest come alive!

We do not require long-term agreements. We simply request a 30-day notice

Booth rentals require first and last month rent at time of agreement. Booth fees are determined on booth size and store location, which will be discussed and very clear prior to any commitments. (Average rates: $150, $275, $550+++)

​

Vinterest is a FUN, non-competitive environment, which means

we will not tolerate

nasty gossip, back-biting, back-stabbing, ugliness, rudeness, negative-Nancy's, Debbie Downers and non-community-type vendors

We are BELIEVERS in Jesus & also we are believers in doing what we can for our local community. We often partner with our vendors, doing charitable work & giving back.
who are we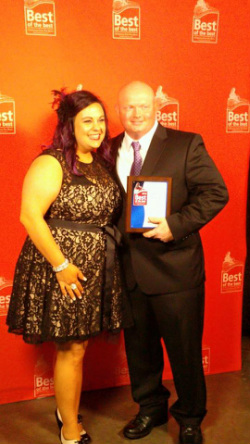 Vinterest Antiques is not a new concept for owners, Paul & Katherine, a husband and wife team.
In 2012, they opened
University Pickers
, located in the great city of Huntsville, Alabama. Katherine maintained her "day job" running a $17M retail store and Paul ran the daily operations of University Pickers. Only a few months later, Katherine was promoted into a Regional Manager role for a 6 state territory and 58 stores, which caused the sale of University Pickers and eventually led to the relocation to Chattanooga, Tenn.
In 2014, Paul & Katherine began a new journey, completely walking away from the "corporate world" and the comforts it provided, to walk by faith in the Lord Jesus into the unknown.
Read a more "personal" version of Paul and Katherine's journey
here.