About the store:
​​​​​

---

Vinterest Antiques is home for over 100 local artisans & pickers, located in the Chattanooga neighborhood of Hixson, Tenn. Having grand opened in Jan. 2015, Vinterest is voted as the "Best Antique Store" in the Chattanooga area (2015, 2016, 2017.) In the large 16,000 sq. ft. warehouse, find "mini stores" (aka booths) from different vendors offering antiques, vintage and vintage inspired items, painted furniture, the top trends in home decor, DIY paint products & supplies, locally made artisan products (such as pottery, handmade organic soaps, and locally crafted food and snacks,) and so much more! Also, find inside the very popular and ever changing "store-within-a-store" called "Vinterest & Co" clothing & gift boutique that carries some of the top trends in southern couture.
About our Team:
The excellent staff and vendors are what sets Vinterest Antiques apart from other retailers in the area. Our team spans from ages 17 to 70(ish.)

ABOUT OUR VENDORS:

Vendors are not required to "staff" their booths, but it is not uncommon for our customers to get to interact with local artisans and pickers on any given day. Some vendors are purely hobbyist, while others have been able to launch a profitable business. We hope that when you come and shop with us, you will notice the great pride our vendors take in their booths to provide you with not only cool & sought after products, but a nice, relaxing atmosphere. Many vendors have "named" their spaces so that you can interact with them on Facebook and other social media sites. Be sure to follow your favorites!! Click

HERE

to apply to be a vendor

ABOUT OUR STAFF:

Separate from our vendors is our sales and service staff who take care of the daily operations of the store. Our staff members are like family, and some are! This winning and diverse team ranges from students in high school to retirees seeking an additional income. We are always accepting applications to join our staff. If you are interested in joining our growing family, please come in-store to pick up an application.
About the owners:
Paul and Katherine (Kat) Schurer are the founders, owners/operators and the creative minds of Vinterest Antiques. This husband/wife duo stepped away from corporate world completely in 2014 to found and launch Vinterest Antiques, which earned over $1M in sales first year and is on track to break $2M in sales for 2017 (their 3rd year of being open.)

Prior to Vinterest, they were the founders

of

University Pickers

(located in Huntsville, Ala.,) which is still successfully operating today under new ownership. Both Paul and Kat come from

an extensive background in retail management.

Alumni of Maryville College and previous Regional Manager for a large big-box retail organization, Kat has the deep passion in DIY projects and vintage goods. As a previous bar/restaurant owner and Sales and Territory Manager, Paul has the carpentry skills, uncanny eye for understanding how to maximize retail space, and tons of lovable "Paul-isms" that has made him a Vinterest icon of sorts.

Now, with two very successful business launches under their belts, Paul and Kat have had the privilege to coach and mentor many other store owners in several southern states.

Want to know a little more? Kat has a blog! Find her "going for broke" story, and several other "off the cusp" stories

HERE

.

​
---
Coming soon!
interested in being coached/mentored by Paul& Kat?
​Or would like to be considered for a potential partnership? SIgn up below!
...and our shop Dog: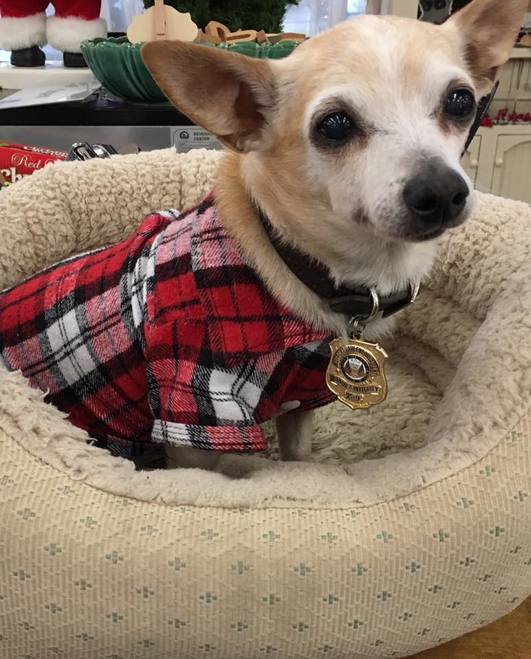 Meet Lilman, who is the rising star of Vinterest. On any given day of the week, you might find this 15/16 year old (and going strong) rescued Chihuahua resting on the sales counter in his cozy bed. Shop his "Shop Dog Market" to find "Lilman-insprired" goods such as handmade dog collars, locally crafted dog treats, cute dog decor and more!

Vinterest is a dog-friendly shopping environment, so feel free to bring your fur babies along!
---